VIDEO WALLS
---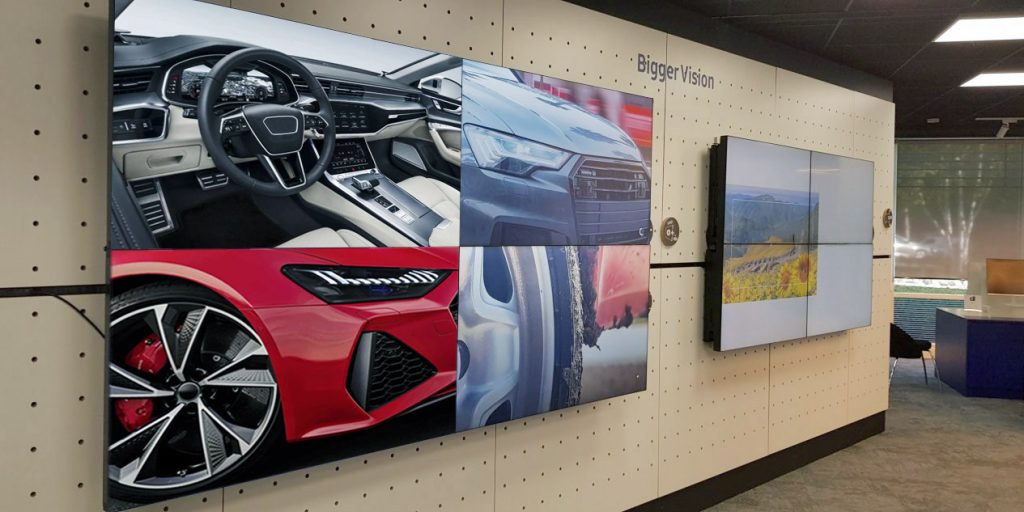 ---
Video walls are a visually-engaging and captivating solution for dynamic digital information delivery. Product demonstrations and/or information are displayed with brilliant, high-definition clarity. Highly customisable to compliment a variety of business environments, video walls can be configured to specific dimensions and sizes.
With, sleek, narrow-bezel designs, the modern video wall is sophisticated and visually appealing without compromising functionality. Content can be informative or merely ornamental, to add aesthetic appeal and ambience to the business environment.
Retailers are driving up sales and benefitting from greater engagement with their customers from considered video wall implementation. From sales promotions to brand augmentation, businesses are increasing footfall and stealing a march on their competitors. Whether they are a department store or restaurant, retailers can influence public perception and consolidate brand loyalty, whilst improving their bottom line.
---
If you are ready to take your digital signage capabilities to the next level, contact Digital Display Networks today. You can send your questions and comments through the form below, or email us in your own time at info@digitaldisplaynetworks.co. We aim to respond to all enquiries within 24 hours so please, do get in touch!